---
---



Shalom, Farfur
Last updated: September 1, 2009

June 30, 2007
Another one in my Shalom series. The series has began with
Azmi Bishara
, continued with
Jesus
and
Mullah Dadullah
and now hopefully ends here. The Al Aksa TV channel has broadcast the last episode of the famous weekly children's show "Tomorrow's Pioneers".

In the final skit, Farfour was beaten to death by an actor posing as an Israeli official trying to buy Farfour's land. At one point, Farfour called the Israeli a "terrorist."

"Farfour was martyred while defending his land," said Sara, the teen presenter. He was killed "by the killers of children," she added.

Source

Obituary: Farfur
It was a very special privilege for the audience of Tomorrow's Pioneers in Gaza and elsewhere to be allowed to follow the amazing process of personal growth and maturing of Farfur the Mouse, that culminated in an ordinary rodent (Mus Musculus) having been transformed into a full fledged predator of Middle Eastern deserts. At the beginning a shy and unsure of itself creature, that cheated on exams and occasionally tried to impress the young audience with its broken English, Farfur had eventually matured into a true Muslim, a freedom fighter full of deep appreciation for the Islamic values and the cultural and linguistic heritage of the great Arab nation. In Farfur the Middle East and its fauna have lost one of its most distinguished species, endemic to the region and unknown in other parts of the world. The great predator of forests is no longer with us.
Shalom, Farfur !!!
יהיה זכרו ברוך
PS
One of the last known recordings of the awesome rodent performing live on the al-Aksa channel:
A new tag introduced to commemorate this tragic event:
Farfur the Mouse
.
July 1, 2007
And This is How They Did It . . .
Roman Kalik said...
NOOOOO! Our Martyr Mouse is gone from us...

Yes, Roman. Farfur is no longer with us. And this is how they have robbed us of our beloved Martyr Mouse !!!
PS
Shit !!! I think I actually live in that Tel al-Rabi !!! Anyway, now you know where the key to Tel Aviv is.
July 5, 2007
Farfur Generation
Some Palestinian parents in the Gaza Strip are up in arms over Hamas summer camps which are being used to train children on the use of weapons and other military equipment.

The families on Tuesday also accused Hamas of inciting their children against Israel and Fatah. Some of the families decided to pull their children out of the camps after discovering the goals of the camp. Most of the children who are participating in the current Hamas summer camps are between the ages of eight and 17.

. . .

"The military training is taking place in the early hours; children are being taught how to use Kalashnikov assault rifles and other weapons," said one eyewitness.

Source

July 21, 2007
Part II: FarfuR RELOADED
I decided that I need to upgrade this post with that clip too. Just for the sake of .. you know ... completeness.
And so: One predator is out, another one is already in !!!
July 25, 2007
Part III: FarfuR Revolutions
My Farfur
Trilogy
is now almost complete as we are at the beginning of the third part.
The first revolutionary generation is graduating from a Hamas kindergarten
Nice childhood indeed :D :D
A commenter, nicknamed Make Love Not War, who decorated his YouTube personal page with clips of German converts to Islam, writes in the comments section:
01MakeLoveNotWar said:
what a beautiful video. thank you so much for this! it's incredible to see such youth will bravery, courage, strength, and the will to fight against injustice. long live palestine. and may God help the non-zionist jews to win their fight against zionism.

I would say that Make Love Not War in the interpretation of this person is as close as Islam can get to being a religion of peace
:D :D
July 26, 2007
Farfur Revolutions come to America :D :D
:D :D
Thanks, Ander
August 5, 2007
Before Farfur and Nahoul
Inspired by a post of
Nizo
with the same title I decided the time is ripe to revisit one of my old posts in search for the truly authentic and original. And so . . . At the beginning of all beginnings, before Farfur and Nahoul, there were . . . . Tom and Jerry !!!
October 3, 2006
Tom and Jerry are Arabs
My debate with Djuha and its surprising conclusion about an Arab origin of Tom and Jerry:
Pinocchio the Muslim
It's time to put to rest a dubious theory advanced by Iranian clerics that Tom and Jerry were invented by the Zionist propaganda machine to enhance the image of rats usually associated with Jews (this is what the clerics say). Yet Tom and Jerry are no Zionists. Tom and Jerry are Arabs!
Last updated: September 1, 2009
Yankees Go Home!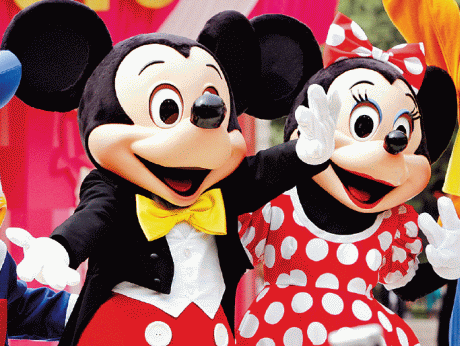 Aug 31, 2009
Israel joins Mickey Mouse club
By DAVID BRINN

In a festive press conference featuring Mickey and Minnie Mouse in the flesh, executives from the Disney Channel announced the September 9th launch of the network in Israel on both YES and HOT. The channel, which debuted in 1983 and currently screens in almost 140 countries worldwide - with 231 million viewers - will feature blockbuster favorites like Hannah Montana with megastar Miley Cyrus, Jonas with the equally mega Jonas Brothers, cartoon favorites Phineas and Ferb, the Mickey Mouse Playhouse with the muchloved Disney cartoon favorites Mickey and Minnie Mouse and Donald Duck. It will also air such Disney movies as the High School Musical series, Camp Rock and The Princess Protection Program, with teen sensation Demi Lovato.

Source: The Jerusalem Post

What a waste of time! It's since years that we have our own Mickey Mouse channel featuring Farfur the Mouse, Nahoul the Bee, Assud the Rabbit and many others. Go home you useless Yankees!
Labels: Farfur the Mouse, Gaza, Nahoul the Bee, Palestinians, Palo-Circus, Shalom Haver, The Shape of the Arab Mind
Back to HappyArabNews

Proclaimed un monstruooo muy monstruoso at 5:11 PM
106 Comments